Who We Are
Young Pioneers for Development (YPD) a Beninese NGO that aims to contribute to the social and economic progress of communities by promoting rural development, the management and sustainable use of natural resources and improved food security. YPD has been working on activities where young people can make a positive impact in society and become actors of sustainable change. YPD is created on 12 August 2012 and officially recognised on 28 August 2015 at n°2015/1164/DEP-ATL-LIT/SG/SAG-ASSOC.
Our vision
Building a global community of young people leading and working together for a positive change conducting to sustainable development.
Mission
Lead innovative actions that are essential for community development.
How We Help
YPD aims to making community development easy by gathering active citizens, offering expertize and collecting resources to provide sustainable solution to a specific need of the community.
Our approach is based on sustainable development principles using human centered design and social entrepreneurship methods in a volunteering spirit.
The Team

   Harriot Aguiah
Cofounder & Advisor
Harriot AGUIAH has over 6 years of experience in community development and capacity building for organizations and companies working in volunteering, wildlife conservation, food security, and environmental impact assessment. Taking leadership role in diverse youth let organizations like AIESEC, Junior Chamber International, he developed his passion for designing and leading projects in youth empowerment, agriculture, entrepreneurship, and environment. As former President, Harriot advises YPD on project designing and food security.

   Christel Kénou
Cofounder & Team leader
Christel KENOU is a communication and MEL expert. He is currently the team leader of Young Pioneers for Development. He uses his expertise in research, monitoring, evaluation, learning, and communication to promote YPD's work and contribute to the high visibility of the organization. His experience in international development is a great value for the team.
He believes that capacity building and creating opportunities for young Africans are key elements to achieve sustainable development goals (SDGs). As such, YPD is at the forefront of engaging youth to achieve SDGs in Benin.

Ange Zoclanclounnon
Cofounder
Mr. Ange is an Environment Engineer who worked as Researcher Assistant at Centre d'Etudes Régional pour l'Amélioration de l'Adaptation à la Sécheresse (CERAAS) in Senegal and completed a Master of Science degree in Plant Pathology and Crop Protection at Cheikh Anta Diop University (Senegal). He is currently a Researcher Assistant at Rural Development Administration in South Korea. He believes that research added to innovation is a solution to hunger and world issues.

Halid Bakary
Executive Director
Halid Bakary is a naturalist and an English language consultant.  Former Rescue Operation Officer at Benin Red Cross, he has developed his passion for humanitarian activities and community services. Halid is like a central pillar at YPD, coordinating activities, managing teams, and logistics. He believes that agriculture and communication are empirical tools for Africa's development as he sticks to them as a member of YPD.
He commits his dynamism and multipurpose potentials to strengthening youths' abilities in the same line with the NGO's objectives.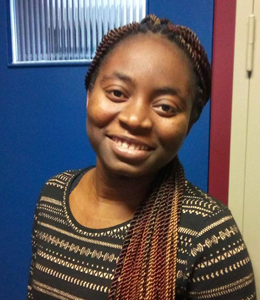 Curie Gansè
Monitoring and Evaluation Officer
Curie holds a Master degree in Rural Engineering (University of Abomey-Calavi) and Aquatics Resources Management and Aquaculture (University of Liège). She is currently working as monitoring and evaluation officer at Young Pioneers for Development. She is also a Research Assistant in the Hydraulics and Water Control Laboratory of the University of Abomey-Calavi. Her passion for research for development is coupled with the love of managing and monitoring projects related to women empowerment.

Sandrine Houéffa ABALO
Program Officer – Environment, Entrepreneurship et Food security
ABALO Sandrine Houéffa is a Research Assistant at the Laboratory of Applied Ecology at the Faculty of Agricultural Sciences of the University of Abomey-Calavi with more than 4 years of experience in community development and natural resource management. She is passionate about the management of youth and women's empowerment projects, entrepreneurship and the fight against climate change. Sandrine aims to serve the United Nations through UN Women and the United Nations Environment Program (UNEP) as an expert.
 
Tony Herman
Program Officer- Grants & Fundraising
TONI Hermann holds a Ph.D. in Ecology. He carried out research works on pollination of some crops in Benin (West Africa). He worked in fundraising and project teams of some local NGOs in Benin. He works with the project team through grant application and fundraising activities. He believes that youth have a major role to play in the development of Africa.

Salawath Bakary
Talent Manager
Salawath Bakary  is an avid linguist and experienced interpreter. She often collaborates with foreign investors and business owners in facilitating language barriers with  local clients and business partners across the globe.  She is also a talented manager,passionate about managing and understanding people. Continuous learner and purpose driven, she aims at driving the organization's performances and members more productive through integrated people management practices

Vidjinnangni Grégory Thoto
Communication Advisor
Vidjinnangni advises business leaders and supports SMEs in their digital communication strategy. As Communication Advisor of YPD, he uses his experience of SEO consultant and web strategies to promote entrepreneurship and digital literacy for young schoolchildren (Keoubougou Pi program). Gregory is the Managing Director of Orizon Web Services which provides digital communication services to SMEs and he co-leads a program called HackHer, whose main objective is to enable women to regain the central role they played until the 1980s in the development of computing.